PACKAGED DRINKING WATER / MINERAL WATER RO SYSTEMS:
We are engaged in manufacturing and supplying a wide range of premium quality Packaged Drinking Water (Bottling Water) & Mineral Water Plant. These are ideal for solving drinking water problem and to meet various industrial requirements. Manufactured using high quality raw material, these are easy to install and highly efficient. They are offered at affordable prices.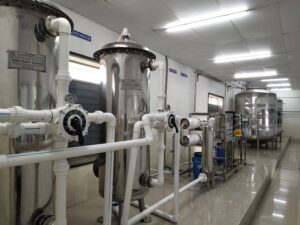 6000 LPH Plant
 1. Economic
2. Features:
3. High efficiency
4. Resistant to various bad wea
5. Easy to install
Mineral Water / Packaged Drinking Water Project consists of the following:
Water Source:
Water should be collected from the source which should be well protected, available easily, un-contaminated. Sources can be anything viz. Borewell water Line, Closed Ring Well, Municipal Supply Line, or another source where treatment is possible.
Water Transfer:
Water is transferred to Raw Water Storage Tanks using a proper pumping system and un-contaminating piping work. Either Submersible Pump or surface mounted Centrifugal pump can be used with good quality UPVC or CPVC or SS piping can be used for this application.
Water Treatment System:
Complete Purification system comprising of :
1. Raw Water feed Pump

2. Chlorine Dosing system

3. Multi Sand Media Filtration for Coarse filtration

4. Activated Carbon Filtration

5. Water Softening / Anti Scalent Treatment Process

6. Micron Cartridge Filtration (5 Micron)

7. Reverse Osmosis Filtration

8. Purified Water Storage in Stainless Steel tank

9. Transfer Pump in stainless steel Pump

10.Micron Cartridge Filtration (1 Micron)

11.Micron Cartridge Filtration (0.2 Micron)

12.Final Purified water Storage in SS tank

13.UV Sterilization

14.Ozone Disinfection
Water Process Description:
Pre Treatment :
Raw water is chlorinated to oxidize the organic impurities (kill bacteria and virus). This water is passed through Multi Media Sand Filter with the help of Feed pump of suitable capacity to remove suspended impurities followed by Activated Carbon Filter to remove excess chlorine (de-chlorination), odour, colour and turbidity due to colloidal suspended impurities and organic impurities.
RO System :
De chlorinated water is then dosed with Anti Scalent Solution to avoid scale formation on the membrane or passed through Softener to remove hardness. Softened water is further passed through 5-micron cartridge filter to remove micron particles to avoid clogging of the RO membrane and to improve the silt density index. Water further passed though RO Unit which is complete with High Pressure Pump, Membranes with Pressure tubes, Electrical control panel and wet panel, piping with valves and all the required accessories viz., pressure switch, solenoid valve etc. Reverse Osmosis unit will reduce the dissolved Salts up to 95% of the in feed TDS. Treated water from RO unit will be stored into SS tank.
Post Treatment :
This treated water is then passed through 0.2 micron cartridge filter before it is taken for the filling. Ozonator unit producing ozone gas is installed in series at the outlet of UV System to provide the residual effect of ozone to the water.
Water Testing Facility :
Purified Water is tested using IN HOUSE Water Testing laboratory Where Chemical and Micro Biologically Water is tested for Chemical and Micro Biological parameters. For this, a complete full fledge Water Testing CHEMICAL and MICRO BIOLOGICAL Lab is required. However, water is also tested for Toxic Substances, Pesticide and Radio-nuclear parameters in outside Bureau of Indian standards approved laboratory. (Also, see Laboratory Service…)
Laboratory Requirements :
Chemical Lab:

Min 150 sq. ft Room / Shelves, Cup-boards (Your Scope)
All Required Chemicals and Reagents
Glassware / PP Ware
Instruments as per BIS

Micro-Biology Lab:

Min 150 sq. ft Room / Shelves, Cup-boards (Your Scope)
All Required Chemicals,Media and Reagents
Instruments as per BIS
| | | | |
| --- | --- | --- | --- |
| 3000 LPH Plant | 4000 LPH RO | 5000 LPH Plant | 10000 LPH Plant |
AUTOMATIC PET BOTTLE RINSE, FILL, CAP AND SEAL MACHINE:
Machine has fully automatic Rinsing, Filling, Capping operations.
Body Labeling with Hot Melt BOPP Labels OR PVC Shrink Labels.
Product Hygienic and untouched by human hand.
Bottle Fill 300 ml to 2.0 Lt in the same machine, using change parts at an extra.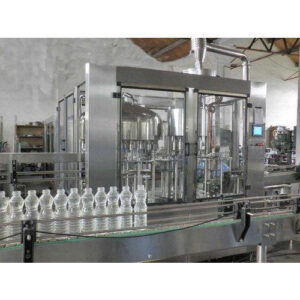 Machine Capacities
Various capacity Machines are available
1. 24 Bottles/min
2. 45 Bottles/min
3. 60 Bottles/min
4. 120 Bottles/min
5. 250 Bottles per min and more
Machines are supplied with standard accessories:
In feed Air Conveyor of SS/Acrylic body with 10 feet length along with drive.
Out feed Conveyor of SS/Acrylic body with 30 feet length along with drive.
Electrical panel with the machine along with timers, relays, PLC etc.
Inspection Board mounted on out feed conveyor.
Shrink tunnel for shrinking the labels and cap sleeves.
One set of change parts for one size of bottles. For different sizes of bottles different change parts are required which will be sent at additional cost.
Computerized Digital Batch & Date Coding Machine to match with machine – Ink-Jet Printer. (Optional)
AUTOMATIC PET BT CANE RINSE, FILL AND CAP MACHINE:
This section consists of 3 units mainly
1. Jar brusher Unit
2. Jar Washer Unit – 2 nos.
3. Jar Filler Unit
4. Jar Capper Unit

Various capacity Jar Machines are available

1. 120 Jars /hour
2. 240 Jars /hour
3. 500 Jars /hour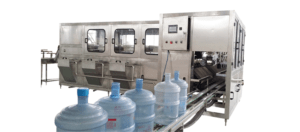 PET BOTTLE/ BT JAR BLOWING MACHINE:
Water once purified is filled in PET Bottles where bottles can be blown IN HOUSE using Bottle stretch Blow Moulding Machine. This Machine requires Heavy duty Compressor with Compressor Air Dryer unit. Bottles are blown using Semi Automatic Twin Blow machine.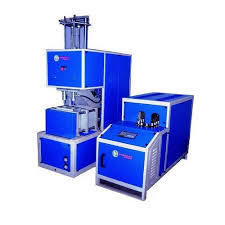 Blow Moulding Machines are available in following capacities:
Semi Auto – 600 Bottles or 1200 Bottles per hour and multiple of 600 BPH Fully Auto – 1200 BPH / 1800 BPH / 2400 BPH / 3600 BPH / 4500 BPH etc.
BT Jar Blow Moulding Machine capacities available in 45 – 60 JPH.
Machines are available with all the accessories viz.
• Storage Hopper and Automatic Feeder of Pet Performs
• Bottle on line Feeder on Air Conveyor
• Air Compressor/s suitable capacity
• Compressed Air Dryer & Filters
• Chiller Unit of suitable capacity
• Various capacity Hard Chrome Diamond Finish PET Bottle Moulds.
AUTOMATIC PE POUCH PACKING MACHINE :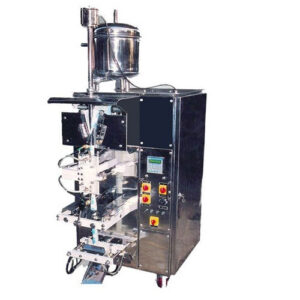 Waste water treatment plant: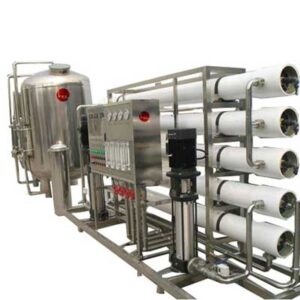 We design and install Waste Water Treatment Plants that are equipped with latest machines to carry out the biochemical purification of the waste water produced by small settlements and enterprises. The plant has requisite equipment to carry out high rate clarifies coagulation, precipitation and bio-media clarification of the waste water. Our hi-tech desalination and waste water recycling plants have become economically infeasible due to high energy consumption. We have competency in installing the adequate machines as per the requirements of different industries and the content of inorganic and organic composition in the water.
Effluent Treatment Plant:
We offer Compact Type Effluent Treatment Plants that are used to purify waste material. Used in most of the factories, our effluent treatment plant helps in solving the environmental pollution problem created by the waste material of a company without exposing the same to the environment. Our effluent treatment plants are renowned for saving energy. To keep our environment safe, we offer innovative Effluent Treatment Plants to remove the pollution effluents with economical operation and quality discharge to meet the stringent pollution control norms.
Our company is one of the leading named that offer our clients with Textile Effluent Treatment Plants. These are widely appreciated for their sturdy construction and corrosion resistance nature. This effluent treatment plant is manufactured as per the predefined industrial quality standards. It is also inspected by our tea of quality analysts before final delivery. Our effluent treatment plant is offered at reasonable prices.
SEWAGE TREATMENT PLANT:
GREEN ECOTEC SOLUTIONS offers complete solution for Sewage Water Treatment Plants and Recycle. The Sewage from the residential and commercial buildings is treated for reduction in BOD, COD & TSS in order to comply with the pollution control board standards for disposal, gardening, flushing and other non-potable purposes.
The sewage treatment plants are based on the Latest FAB (Floating Aerobic Biomedia) or SAFF (Submerged Aerobic Fixed Film) treatment followed by clarification by a tube settler. Lime is dosed in for suppression of foaming tendencies. The clarified water is then further filtered in a Multi media Sand Filter after dosing of co-agulant (alum) for removal of unsettled suspended impurities followed by Activated Carbon Filter for removal of organics. The filtered water from ACF is then chlorinated & stored in the treated water tank.
These sewage treatment plants are available in RCC constructed designs for commercial and residential buildings as well as Mild Steel FRP Lined and Fiber constructed tanks for easy installation and commissioning.
Sewage treatment systems are available from 50 M3 per day to 1000 M3/day and more…Water thus obtained can be used for gardening, flushing, car washing, etc. etc..
We are Designing, Manufacturing, Erection and Commissioning of Compact Sewage Treatment Plants of Different types of Industries, Special Economical Zones (SEZs), Industrial Complexes, Municipal Corporations, Nagar Palikas, Hotel Industries, Residential Colonies. We identify and study the possible options by which treated sewage can be recycled for Gardening, Flushing or for other Process Applications for industries. We are optimizing the size and power consumption of sewage treatment plant as possible as we can by our best knowledge.
STANDARD FEATURES: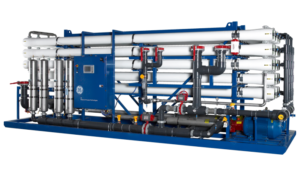 No Odour Generation

Inside and Outer protection: epoxy paint

Aeration system composed by a Blower, an air supply pipe, Fine bubble diffusers and an air relief valve

Automatic sludge recirculation system

Access and inspection registers in every chamber

Packaged and transportable plant

 Suitable for remote locations

Permanent and mobile installation

Designed to the required capacity
RO SPARES & TREATMENT CHEMICALS :
The Reverse Osmosis systems spares we design and fabricate are extensively used to dissolve solids from the raw water. Our range of reverse osmosis system and reverse osmosis equipment is manufactured using the membrane technology. These ROs allows the water to pass through a semi permeable of 0.0001 micron gauge that separates even the smallest of microbes, soluble or insoluble wastes and softens the hard water. Our range includes high pressure pumps, dosing pumps, reverse osmosis systems spares, industrial micron filters, pipe fittings, industrial chemicals and water treatment chemicals.
Centrifugal Feed Pump
FRP Pressure Vessels
SS Pressure Vessels

Strainer
Distribution Strainer
Multiport Valves
Auto Multiport Valves
Sand Pebbles
Sand Silex
Activated Carbon
Softener Resin
Micron Filter PP Housings
Micron SS Housings
Micron Cartridges
PP Pleated Filters
Chemical Dosing Pump
Chemical Dosing Pump (2)
Chemical Dosing HDPE Tank
Pumps
Membrane Filters
FRP Membrane Housings
RO Auto Control Panel




RO Skid

Flow Roto Meters
Squre Flow Meters
Pressure Gauge
Pressure Switches



SS Pump

SS Storage Tanks
UV Sterilizer
UV Sterilizer

UV Sterilizer

Ozonator
Ozonator
Ozonator ABS
Membrane Housing End Cap
Water Vending Machine
SS Pipelines
SS Fittings & Accessories
TREATMENT CHEMICALS:
| | | | |
| --- | --- | --- | --- |
| RO Antiscalent-25kgs | RO Antiscalent-5kgs | Treatment Chemicals | PH Boosters |
| Sodium Hypo Chlorine | Sodium Hydroxide | Sodium Carbonate | Sodium Bi Carbonate |